About Tempe, Arizona
Tempe, Arizona, is a bustling town situated next to the state capital and 5th largest U.S. city of Phoenix. Tempe is also the home of Arizona State University.
Tempe is located about 10 minutes from Sky Harbor International Airport in Phoenix. Getting to Tempe is easy; take a taxi from the airport or call the hotel for a shuttle.
Tempe offers a variety of restaurants, shopping opportunities, and both indoor and outdoor activities. Visit downtown Tempe, just one block west of the Tempe Mission Palms for lunch or dinner, or to shop in one of the unique shops on Mill Avenue.
Tempe also is home to Tempe Town Lake. Visitors can rent boats at the Tempe Beach Park and explore the lake for themselves. The park provides plenty of space to enjoy the warm April days.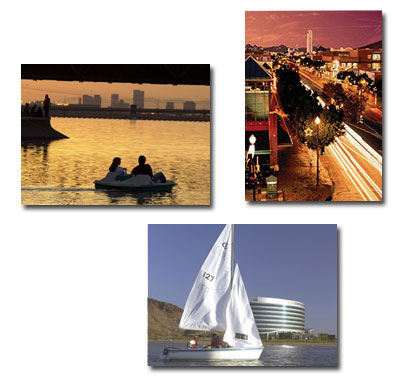 More About Tempe, Phoenix, and Scottdale:
Restaurants
Mill Avenue Restaurants (On or just off Mill Avenue)

Other Tempe Restaurants, near ASU
Bandera Restaurant - Address: 3821 N. Scottsdale Rd., Phone: 480-994-3524

Furio

- 7210 E. 2nd St. Phone: 480-945-6600

Italian Grotto - 3915 N. Scottsdale Rd. Phone: 480-994-1489

Karsen's Grill - 7246 East 1st Street, Phone: 480-990-7660

Los Olivos Mexican Patio - 7328 E. 2nd St. Phone: 480-946-2256
Los Sombreros 2534 N. Scottsdale Rd. Phone: 480-744-1799
Patsy Grimaldi's Pizza - 4000 N. Scottsdale Rd. Phone: 480-994-1100
Pink Pony - 3831 N. Scottsdale Rd. Phone: 480-945-6697
Pischke's Paradise - 7217 East First Street, Phone: 480-481-0067

Sugar Bowl Ice Cream Parlor & Restaurant - 4005 N. Scottsdale Rd. Phone: 480-946-0051
Visitor Information for Tempe, Phoenix, and Scottsdale